TEETH WHITENING
We could all use a whiter, brighter smile. Teeth tend to stain and discolor over time. Foods and beverages can stain teeth as well. To cover up stains, teeth whitening products can help. While over-the-counter products are inexpensive and can provide temporary results, they do not deliver the results of professional whitening treatment. Professional dental whitening is a simple, effective cosmetic dental treatment that is done at the dentist office.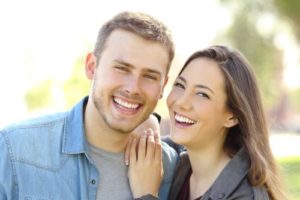 A professional whitening treatment can enhance the appearance of your smile in just one visit. At Pop Smiles Dentistry, our dentist uses a safe but effective whitening gel that is applied to the surface of the teeth. This powerful gel lightens the appearance of yellowing, stains, and discoloration of the enamel of the teeth. If an office visit is inconvenient, you can take a professional whitening system home and whiten your teeth when it is convenient for you. Professional teeth whitening will boost your self-esteem. You'll be excited to show off your new smile!
If you desire a quick and effective whitening treatment to improve your smile, our dentist offers a dental whitening treatment that can help. We invite you to make your appointment with our friendly dentist Dr. Jamil Sowan. To learn more about teeth whitening in Manassas, Virginia, call Pop Smiles Dentistry at (703) 844-0404.
Can I Benefit From Teeth Whitening?
If you are in search of a whiter and brighter smile, teeth whitening might be a good choice for you. Professional dental whitening can eliminate discoloration and stains caused by factors such as the following:
Poor dental hygiene habits
Certain foods and drinks
Illness
Smoking and tobacco use
Fluorosis
Certain medications
The natural aging process
There are various types of professional dental whitening available. Our dentist will assess your smile and determine the most appropriate treatment to achieve the shade of smile you desire.
The Process
The process takes about 60 to 90 minutes to complete. There are various steps involved. First, the dentist will record your teeth's current shade. Your teeth will be cleaned with pumice to remove any plaque and kept dry with gauze. in addition, your dentist may use retractors to keep your lips, tongue, and cheeks away from the whitening solution. A barrier will be used to protect your gumline.
The dentist will apply a whitening solution on the front surfaces of the teeth. Hydrogen peroxide or carbamide peroxide is typically used as the bleaching agent. The agent is activated with a curing light or laser. The solution is left on the teeth for 30 to 60 minutes. The teeth are then rinsed once the optimum shade has been reached. The dentist may apply fluoride to reduce the risk of tooth sensitivity.
Teeth whitening offers many benefits for those who want to improve the appearance of their smile. Staining can be caused by certain drinks, such as tea, wine, coffee, and soda. Whitening can remove these stains and allow you to smile with pride. To learn more about professional teeth whitening, please contact us today. For a consultation, call Pop Smiles Dentistry at (703) 844-0404.