DENTAL CLEANINGS & EXAMS
Dental cleanings and exams are two basic treatments that can prevent serious oral health issues. These preventative treatments will help your smile stay healthy for years to come.
At Pop Smiles Dentistry, we recommend routine dental checkups every six months to keep your teeth looking and feeling good. At these visits, the dentist and hygienist will clean and examine your mouth to ensure your teeth stay healthy. Contact our office to learn more about dental cleanings and exams in Manassas, Virginia. Schedule your appointment with Dr. Jamil Sowan by calling (703) 844-0404.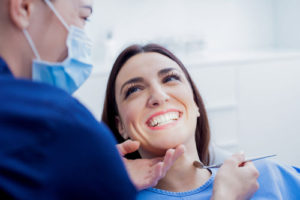 What Happens During a Dental Cleaning and Exam?
During your teeth cleaning and exam, our dental team will professionally clean your teeth by removing plaque or tartar. Too much buildup can lead to tooth decay and gum disease. The dentist will also floss your teeth to remove all food particles and debris. Once the teeth are thoroughly cleaned, they will be polished to reveal a bright, healthy smile. If you wear dentures, the hygienist will clean those as well. Cleanings generally are pain-free. However, if you have been neglecting your oral health, the hygienist may have to work extra hard to remove debris from your teeth, and this may result in some discomfort.
If your teeth are at risk of decay, the hygienist may apply fluoride to the teeth. Sealants are recommended for children. The hygienist may discuss your dental hygiene and show you how to properly brush and floss, if you missed some spots.
The dentist will then examine your smile and look for signs of any dental diseases or conditions. Your dentist may take X-rays to evaluate bone structure and check alignment. X-rays are typically done every 1-2 years.
The dentist may also go over your medical history and look for conditions that may affect oral health, such as diabetes, heart disease, pregnancy and use of certain medications. You may be screened for oral cancer if you're a smoker. The dentist will also check your swallowing and biting patterns to ensure teeth are aligned properly.
If any issues are detected, the dentist may ask you to make a follow-up appointment. If the problem is severe, you may be referred to a specialist.
Regular dental cleanings and exams are important for your oral health. They can prevent cavities and gum disease, both of which can lead to painful infections and even tooth loss. Regular exams help ensure that serious dental conditions are treated as soon as possible.Our dentist recommends dental cleanings and exams every six months, although we may suggest more frequent visits if needed. Feel free to contact us at any time if you suffer from a dental emergency. Any pain or injury should be reported to us right away so we can provide the best treatment possible.
Regular cleaning and exams are important to keep teeth in tip-top shape. Maintain your smile by scheduling your next appointment with Pop Smiles Dentistry. We look forward to caring for your smile, so contact us today.