DENTURES & PARTIALS
If you are missing multiple teeth due to injury or disease, you don't have to live with gaps in your mouth. Show off a healthy and confident smile with dentures. Dentures are removable appliances that are placed in the mouth to allow you to eat properly and speak clearly. Whether you are missing just a few teeth or all of your teeth, dentures can add function. They can also improve the health and appearance of your smile.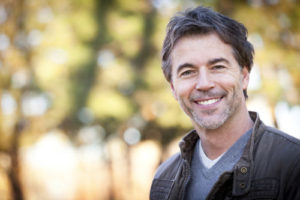 Your dentist may recommend partials or completes. A complete denture replaces all of the teeth in one or both arches. Denture adhesive helps keep the dentures in place. A partial denture is a good choice if you have some natural teeth remaining. This type of denture fits securely onto your natural teeth through the use of clasps or framework.
If you have lost some or all of your teeth, Dr. Jamil Sowan can provide you with a set to restore your smile. Removable mouth appliances offer many benefits. They can help you look and feel more confident while supporting the contours of your face. Get a healthier overall appearance today. Schedule your consultation with our experienced dentist. Learn more about this teeth replacement option in Manassas, Virginia, by calling Pop Smiles Dentistry at (703) 844-0404.
Types of Dentures
There are three main types:
Conventional. This is the most common one. The process takes several months, as your teeth are moved and the gums and other tissues heal. You will be without teeth during this time.
Immediate. This is the most convenient type. They are inserted on the same day as all teeth are removed. Your dentist will have the set ready by taking measurement of your jaw in advance. You don't have to be without teeth, but you may need to have your dentures remade later on after your jaw has healed.
Overdenture. An overdenture allows you to keep some of your teeth, which will provide support and stability for the denture. An overdenture fits over your natural teeth. You can opt for implants for this method as well.
No matter which one you choose, expect multiple checkups to ensure your dentures fit properly. A poor fit can cause your set to shift around in your mouth. This can lead to painful sores and infections.
Benefits
Dentures can improve your ability to properly speak and eat. They can keep facial muscles from sagging and restore your natural facial volume. Many dentures nowadays look and feel like real teeth, so you can eat your favorite foods with ease. You'll feel more self-confident, as dentures enhance the appearance of your smile. Your set will be custom-made to fit your mouth, so they'll be comfortable.
Dentures are a great way to improve your smile and your self-confidence. Are they the right option for your mouth? Let our friendly dentist assess your smile. Contact us to discover how these removable mouth appliances can improve your smile! Call Pop Smiles Dentistry today at (703) 844-0404.