RESTORATIVE DENTISTRY
Preventive dental care helps take care of teeth and identify problems before they require extensive treatment. When you take poor care of your teeth and do not visit the dentist regularly, then your teeth may begin to deteriorate. Tooth decay can lead to gum disease and tooth loss. Sometimes accidents and injuries can cause damage as well and require the next step: restorative dentistry.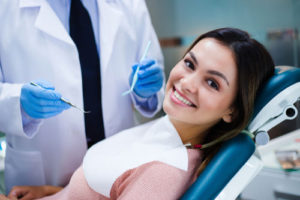 Restorative dentistry focuses on restoring oral health and function. With the right treatments, your damaged teeth can be repaired with crowns and your missing teeth can be restored through bridges or implants. This means you can go on with your day-to-day life without fear of speaking or social activities. Our experienced dentist can help your smile look as good as new.
If you are suffering from the effects of damaged or lost teeth, restorative dentistry services from Pop Smiles Dentistry can help. Our experienced dentist Dr. Jamil Sowan offers several restorative treatment services so you can have a healthy bite and a beautiful smile once again. Your restoration will be constructed of only the finest materials so you can enjoy a beautiful smile for many years. Learn more about restorative dentistry in Manassas, Virginia. To schedule your consultation with our experienced dentist, contact Pop Smiles Dentistry at (703) 844-0404 today.
Types of Restorative Dentistry
Need to fix damaged or missing teeth? At Pop Smiles Dentistry, our dentist offers the following types of restorative dentistry:
Dental crowns are placed on top of a tooth and serve as a cap. They are used to treat large cavities that have caused significant damage to the tooth. They are often tooth-colored, so they are easy to hide. Nobody will ever know!
A dental bridge is a restoration that is used to replace one or more missing teeth. It involves a false tooth that is typically made of porcelain and is held in place by the natural teeth on both sides.
Dental implants are a great choice for replacing missing teeth. Screws are placed in the jawbone to simulate tooth roots. A crown is then placed on the end. Dental implants look and feel like real teeth and can last many years with good care.
We are pleased to offer these forms of restorative dentistry at Pop Smiles Dentistry. Whether you are missing one, several, or all your teeth, we have solutions to meet your needs. We can even fix teeth that are significantly decayed or damaged.
The first step to have our caring dentist examine your smile. We can then provide you with recommendations for restoring your smile. We offer restorative dentistry services that will allow you to gain a smile that is healthy, functional, and beautiful. Our options are comfortable and natural-looking.
Are you embarrassed about your missing or damaged teeth? Gain the confidence to laugh, smile and eat again. Restorative dentistry can help. To learn more, call or visit Pop Smiles Dentistry. We are eager to help you. Call our office today at (703) 844-0404.