COSMETIC DENTISTRY
Cosmetic dentistry focuses on the appearance of your teeth. It includes several dental treatments that enhances the beauty of your smile. Cosmetic dentistry allows patients to achieve a beautiful smile that boosts your self-esteem and allows you to smile with confidence.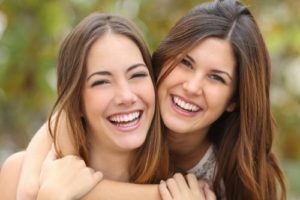 If you're looking to improve the appearance of your teeth, Dr. Jamil Sowan provides cosmetic dentistry in Manassas, Virginia. He offers many options to help you enjoy a confident, attractive smile. We can help you achieve your smile goals. To learn more about cosmetic dentistry, contact Pop Smiles Dentistry at (703) 844-0404. Schedule a consultation with our dentist today.
Who is a Good Candidate for Cosmetic Dentistry?
If you want to improve the appearance of your smile, you may be a good candidate for cosmetic dentistry. Cosmetic dentistry works well for imperfections such as the following:
Discolored, yellowed, or stained teeth
Chipped, cracked, or broken teeth
Spaces and gaps between teeth
Slightly uneven or misaligned teeth
Teeth that appear too short, too long, or pointed
Very worn teeth
Misshapen teeth
Missing teeth
Our dentist can help you choose the right cosmetic dental treatments to help you achieve your goals. You will receive an individualized treatment plan so you can show off the perfect smile.
Types of Cosmetic Dentistry
There are many procedures that our dentist can perform to help you improve your smile's appearance. They include the following:
Teeth whitening. Teeth whitening can be done at home, although over-the-counter kits are not effective if your goal is long-term brightening. You can get your teeth bleached in your dentist's chair. While the price is much higher – often $500 or more – the results are better. In fact, professional whitening by a dentist can brighten your teeth up to eight shades.
Dental veneers. For a gorgeous Hollywood smile, consider veneers. Veneers are ultra-thin shells that are bonded to the front of your teeth. This procedure involves removing enamel from your teeth. Veneers can be used to improve the shape, length, size and color of teeth.
Dental bonding. Bonding is a good alternative to silver or gold fillings. It can also be used to fix chipped, cracked or misshapen teeth. A tooth-colored material is applied to the teeth and then hardened with a special light. Next, the material is shaped and polished. Overall, the procedure takes less than an hour.
Dental crowns. Crowns are caps that are placed over teeth that are decayed or damaged. They are great for restoring the shape, strength, and appearance of teeth. They are made from a variety of materials, including porcelain, resin, metal or ceramic.
Dental implants. If a tooth is missing due to injury or decay, it can be replaced with a dental implant. In addition, the process consists of inserting titanium roots into the jaw and then using a crown to top it off. Dental implants are very effective.
Our friendly dental practice looks forward to helping you achieve the attractive smile you've always dreamed about. Call us to learn more about cosmetic dentistry! Contact Pop Smiles Dentistry at (703) 844-0404.