STAINLESS STEEL DENTAL CROWNS
If you have a tooth that is suffering from decay or damage, your dentist may recommend a dental crown. Also called a cap, a dental crown, is a restoration that can be used for multiple purposes. The crown is custom-made by the dentist so it fits over the entire tooth. It is used to restore the tooth to its original shape and size. Dental crowns can be made of several types of material, including porcelain, porcelain/metal, or gold. However, porcelain crowns are the most popular because they match the other teeth in terms of color and appearance.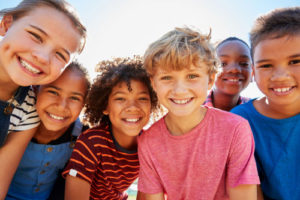 Dental crowns are ideal for children as well. At Pop Smiles Dentistry, our skilled dentist Dr. Jamil Sowan may use stainless steel dental crowns to treat baby teeth that have been damaged. Stainless steel crowns are commonly used on baby teeth to protect them from further decay. When the baby tooth falls out to make room for the permanent tooth, the crown will come out with it. Stainless steel crowns are used for children's teeth because they are cost-effective and do not require multiple visits to the dentist.
Dental crowns protect the teeth from further damage and prevent sensitivity. They are used to restore the size, shape, and function of the tooth. Dental crowns maintain the space needed for a child's permanent tooth without the need for a space maintainer or other dental work. To learn more about stainless steel dental crowns in Manassas, Virginia, call our practice at (703) 844-0404. We are always happy to help!
Do I Need a Dental Crown?
You may need a dental crown if a tooth is severely decayed or damaged and a dental filling will not be sufficient. Crowns can also be for other situations, such as the following:
Improving a misshapen tooth
Supporting a large filling
Strengthening a tooth that is weak or fractured
Anchoring and attaching a dental bridge
Protecting a tooth after a root canal treatment
Completing a dental implant
Enhancing the appearance of your smile
What Type of Crown Do I Need?
Dental crowns can be made of gold, porcelain, or porcelain fused to metal. The crown should look natural and be comfortable. The type of material your dentist will use depends on several factors, such as the following:
The tooth's location and function
The position of the gum tissue
The amount of tooth that shows when you smile
The color or shade of the tooth
Your preference
Benefits of Dental Crowns
Dental crowns offer many advantages, including the following:
Holding a filling
Restoring teeth to their natural shape and size
Strengthening teeth
Covering a dental implant
Protecting a weak tooth
Restoring a broken tooth
Attaching bridges
Covering stained or discolored teeth
Enhancing appearance
Is a dental crown right for your or your child's tooth decay? Our dentist will help you determine which type of dental crown is right for your smile. Contact our office to learn more and schedule a consultation with our caring dentist. Call Pop Smiles Dentistry today at (703) 844-0404.